\quotingsetup
vskip=2pt \onlineid1517 \vgtccategoryResearch \vgtcpapertypesystem \authorfooter All authors are with Carnegie Mellon University. Emails: willepp@cmu.edu, vaishnag@andrew.cmu.edu, domoritz@cmu.edu, adamperer@cmu.edu. \shortauthortitleEpperson et al.: Dead or Alive: Continuous Data Profiling for Interactive Data Science
Dead or Alive: Continuous Data Profiling for Interactive Data Science
Abstract
Profiling data by plotting distributions and analyzing summary statistics is a critical step throughout data analysis. Currently, this process is manual and tedious since analysts must write extra code to examine their data after every transformation. This inefficiency may lead to data scientists profiling their data infrequently, rather than after each transformation, making it easy for them to miss important errors or insights. We propose continuous data profiling as a process that allows analysts to immediately see interactive visual summaries of their data throughout their data analysis to facilitate fast and thorough analysis. Our system, AutoProfiler, presents three ways to support continuous data profiling: (1) it automatically displays data distributions and summary statistics to facilitate data comprehension; (2) it is live, so visualizations are always accessible and update automatically as the data updates; (3) it supports follow up analysis and documentation by authoring code for the user in the notebook. In a user study with 16 participants, we evaluate two versions of our system that integrate different levels of automation: both automatically show data profiles and facilitate code authoring, however, one version updates reactively ("live") and the other updates only on demand ("dead"). We find that both tools, dead or alive, facilitate insight discovery with 91% of user-generated insights originating from the tools rather than manual profiling code written by users. Participants found live updates intuitive and felt it helped them verify their transformations while those with on-demand profiles liked the ability to look at past visualizations. We also present a longitudinal case study on how AutoProfiler helped domain scientists find serendipitous insights about their data through automatic, live data profiles. Our results have implications for the design of future tools that offer automated data analysis support.
keywords:
Data Profiling, Data Quality, Exploratory Data Analysis, Interactive Data Science.

\teaser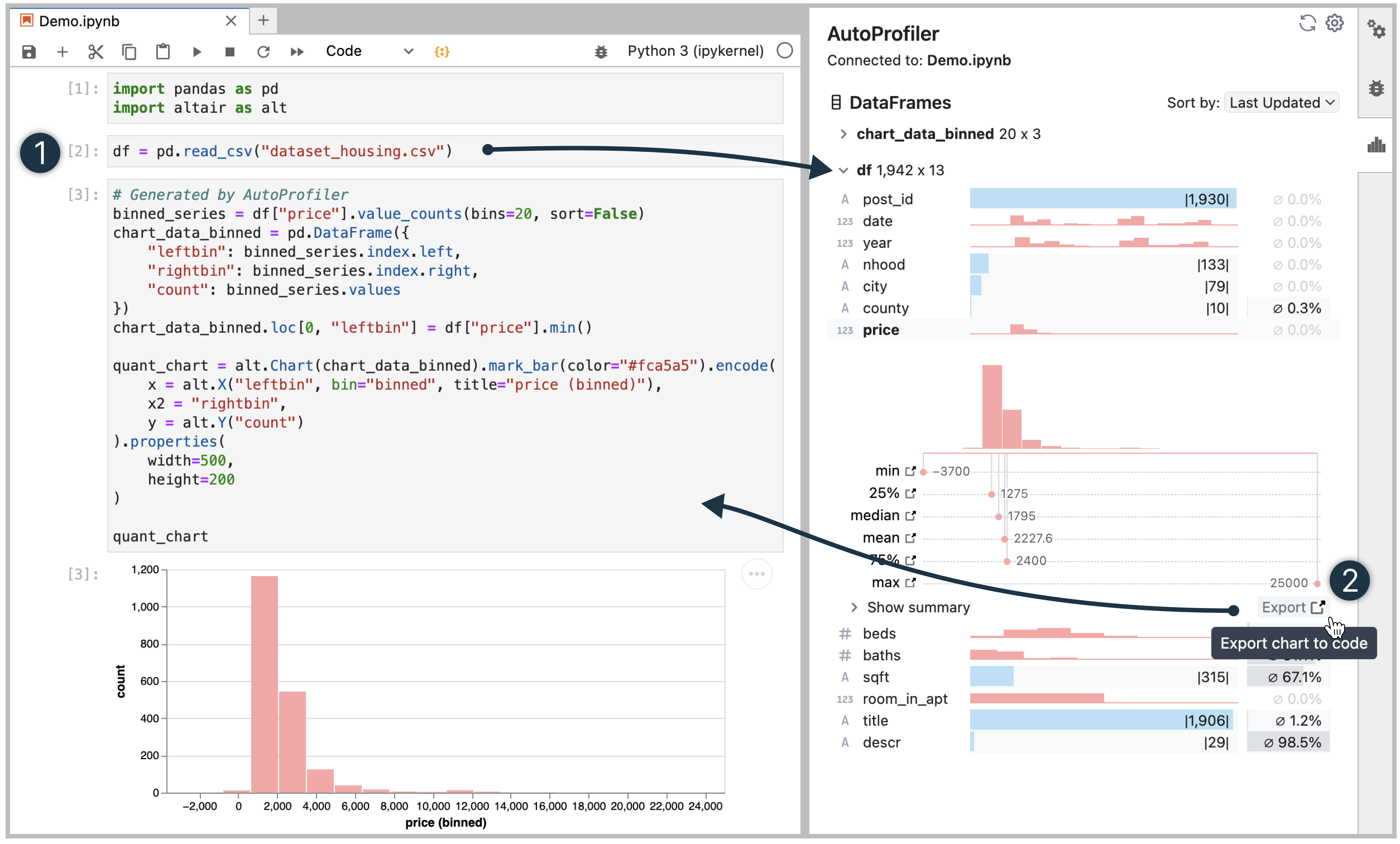 In AutoProfiler, data profiles update whenever the data in memory updates and are sorted with the last updated dataframes at the top. In this example, a user has (1) loaded a dataframe about housing prices and sees the profile for in the sidebar. (2) The user then investigates the price column and exports a chart to code so they can persist this chart and tweak the code for follow-up analysis.
In recent decades, data analysis is no longer bottlenecked by the technical feasibility of executing queries against large datasets, but by the difficulty in choosing where to look for interesting insights [5]. Interactive programming environments such as Jupyter notebooks help since they support fast, flexible, and iterative feedback when programming with data [2, 33]. However, while these coding tools were designed to track the state of program execution and variables for debugging, they were not inherently designed to track how data is manipulated and transformed. This forces users to manually make sense of and write additional code to explore their data.
Exploratory Data Analysis (EDA) is critical to understanding a dataset and its limitations and is a common task at the beginning of a data analysis [47, 49]. Yet the manual effort required to construct data profiles for EDA takes up a significant part of data analysts' time: recent surveys of data scientists show that they spend almost 50% of their time just cleaning and visualizing their data [3]. Since data profiling is so time intensive, it is easy for users to skip over important trends or errors in their data. This can lead to negative downstream consequences when this data is used for modeling and decision-making [41]. In particular, many data quality issues are potentially silent: models will still train or queries will execute, but the results will be incorrect [16]. For example, in the data profile of apartment prices in Dead or Alive: Continuous Data Profiling for Interactive Data Science we can see that some apartment prices have negative values. If these values are not addressed, analyses or models that use this data may lead to wrong decisions.
We propose continuous data profiling as a process that allows analysts to immediately see interactive visual summaries of their data throughout their data analysis to facilitate fast and thorough analysis. To explore how automated tools can best support continuous data profiling, we have built a computational notebook extension AutoProfiler that tightly integrates data profiling information into the analysis loop. AutoProfiler maintains the advantages of the interactive notebook programming paradigm, while giving users immediate feedback on how their code affects their data. This tightens the feedback loop between manipulating data and understanding it during data programming.
We explore three main features in AutoProfiler. First, it automatically displays profiling information about each dataframe and column to facilitate data understanding. By showing data distributions and summaries, AutoProfiler jump-starts a user's EDA. Second, when the data in memory updates, the profiling information updates accordingly. "Live" updates in user interfaces have been shown to reduce iteration time [27]; with AutoProfiler we apply this concept to data profiling to understand how it helps facilitate data understanding. Third, although AutoProfiler eliminates the repetitive work of authoring data profiling code, users still need to be able to conduct flexible follow-up analysis and persist interesting findings in their notebook [40]. AutoProfiler supports this by authoring code for the user through code exports to help users quickly select subsets, find outliers, or author charts.
We present two complimentary evaluations of AutoProfiler. In a user study with 16 participants, we evaluate two levels of automated assistance to see how different versions of the tool help users find errors and insights in their data. Half of the participants used AutoProfiler (a "live" profiler) and the other used a version that presents the same information but in a static, inline version (which we denote as "dead"). In this evaluation, we found that users experience similar benefits from both versions of the tool, "dead" or "live", and generate 91% of findings from the tools as opposed to their own code. Participants found live updates intuitive and felt it helped them verify their transformations while those with static profiles liked the ability to look at past visualizations. Furthermore, participants described how the systems sped up their analysis and exports facilitated a more fluid analysis. In our second evaluation, we conducted a long-term deployment of AutoProfiler with domain scientists to use the system during their analysis. These users described how the "live" system enabled them to find and follow up on interesting trends and how AutoProfiler facilitated serendipitous discoveries in their data by plotting things they might not have checked otherwise. We discuss how future automated assistants can build on AutoProfiler to augment data programming environments. In summary, our paper makes the following contributions:
1.

We demonstrate the benefits of continuous data profiling with AutoProfiler, which supports data programming with automatic, live profiles and code exports.

2.

We evaluate this tool in a controlled study and demonstrate how continuous profiling helps analysts discover insights in their data and supports their workflow.

3.

We also present a longitudinal case study demonstrating how AutoProfiler leads to insights and discoveries during daily analysis workflows for scientists.
1

Related Work

Our work builds on prior literature on assisted data understanding, live interfaces, and linking GUI and code interfaces.
2

Design Goals

We developed the following design principles to inform our system requirements and design:
G1:

Automatic & Predictable: Basic data profiling information should be visualized automatically without any need for extra code in a consistent manner.

G2:

Live: When the data updates, so should all visualizations of it. This prevents "stale" data visualizations in a notebook and allows data profiles to be accessible throughout an analysis.

G3:

Non-intrusive: Since users are writing code to interact with their data, automatic visualization should not interfere with their flow.

G4:

Initiate EDA: Data profiles should present a starting point for understanding each column, which can inform follow-up analysis.

G5:

Persistence: Tools should support writing findings to the notebook to enable reproducible and shareable analysis.
G1 and G2 were motivated by the manual EDA which is the current status quo in notebook programming. We build on prior techniques in live interfaces [27] and automatic visualization [25, 15] to speed up the data profiling process and enable continuous data profiling. This eliminates the need to write repetitive profiling code to understand dataframes after each update. Importantly, we show the same profiling information for each type of column and visualize the data "as is" in order to facilitate finding issues (G1). With live updates, we situate our profiler alongside the programming environment rather than inline (G3) so that it does not take programmers out of their analysis flow [12]. This also helps declutter the programming environment since most preliminary visualization can be done in the sidebar. We make the design choice to show univariate profiling information to help users jump-start their EDA process (G4). Previous profiling systems often require scrolling to look through multiple pages of charts [25, 30], making it hard to find interesting problems or insights. Our goal is to facilitate rapid data understanding with data profiles, then allow users to do further custom analysis by handing off their analysis back to code through exports. Code exports also facilitate saving findings such as charts or code snippets to the notebook so that notebooks can be shared and reproduced (G5), a core goal in notebook data analysis [40].

3

Continuous Data Profiling with

AutoProfiler

AutoProfiler provides data analysts rapid feedback on how their code affects their data to speed up insight generation. The system fits into a common existing workflow for analysis: using Pandas in Jupyter. Pandas is the most popular data manipulation library in Python, with millions of downloads every week [29]. Likewise, computational notebooks in Jupyter have become the tool of choice for data science in Python [33]. AutoProfiler focuses on Pandas users in Jupyter with the goal that features that support this workflow will generalize to other dataframe libraries such as Polars [36] or Arrow [4], as well as other notebook programming environments. The AutoProfiler system has three core features that enable continuous data profiling: automatic visualization (§ 3.1), live updates (§ 3.2), and code exports (§ 3.3).
3.1

AutoProfiler shows EDA automatically

AutoProfiler detects all Pandas dataframes in memory and presents them in the sidebar of the notebook. Each dataframe profile can be shown or hidden, along with more information about each column. This allows users to drill down into dataframes and columns of interest to see more information, providing details on demand. By situating AutoProfiler in the sidebar it also allows users to simultaneously look at both summary data profiles of their data in AutoProfiler and the default instance view inline from Jupyter.

We use the Pandas datatype of the column to show corresponding charts and summary information. We categorize the Pandas datatypes into semantic datatypes of numeric, categorical, or timestamp columns similar to previous Pandas visualization systems [25, 9]. Column profiles for each of these three data types are shown in Figure 1. Each column profile has three core components:
1.

Column Overview which contains the name, data type, a small visualization, and the percentage of missing values.

2.

Column Distribution which is shown by clicking on the overview to reveal a larger, interactive visualization of column values.

3.

Column Summary that has extra facts about a column such as the number of outliers or duplicate values.
The overview, distribution, and summary shown depend on the data type of the column. Furthermore, the distribution and summary can be toggled on and off to show more details on demand [44]. This is important for large dataframes with many columns, or when there are many dataframes in memory to prevent unncessary scrolling. Many visual elements show hints on hover to further prevent visual clutter, providing further details on demand. Our core charting components were adapted from the open-source Rill Developer platform which shows data profiles for SQL queries [38]. We use the same visualizations in AutoProfiler with extra summary information and linked interactions to connect the profile to the notebook.
Quantitative Columns: For quantitative columns like integers and floats, we show a binned histogram so that users can get an overview of the distribution of the column. This histogram is shown in the column overview as a preview; a larger and interactive version is presented upon toggling the column open. On hover, users can see how many points are in each bin. We also show numerical summary information like the min, mean, median, and max of the column. This is similar to what is presented in the
describe()} function in Pandas to give a numeric summary of a column.
In \autoref
fig:column_details (left), we demonstrate this information for a price column where we can see that some of the prices in this distribution are negative, a potential error that should be inspected during analysis. If users want to see more information, they can toggle the summary to see potential outliers, whether the column is sorted, and the number of positive, zero, and negative values. We use two common heuristics to detect outlier values. The first is if a value is greater than 3 standard deviations from the mean; the second is if a point falls outside of away from the first or third quartile. Both forms of outlier detection code can be
exported to code
which allows users to investigate potential outliers more or change these thresholds for classifying the outliers with their code manually.
Categorical Columns:
For categorical or boolean columns, we first show the cardinality of the column in the overview to let users understand the total number of unique values. Once toggled open, the distribution view shows the frequency of the top 10 most common values. This is similar to the commonly used
value_counts()} function in Pandas which shows the count of all unique values.
In the categorical summary, we show extra information about the character lengths of the strings in the column along with a more detailed description of the column's uniqueness.
This uniqueness fact can be exported to code which lets users inspect duplicated data points.
Once again, users can export a selection to code in the notebook to quickly filter their dataframe.
For example, in \autoref
fig:column_details (center) we show the information for the categorical column "county". This column has some default values of
"---"} that seem like an error, so a user can click ''Export rows to code'' to have the code \mintinline
Pythondf[df.county == "—"] written to their notebook and can investigate these rows further. Once this new code is written to the notebook, the user can look at this subselection in
AutoProfiler
or with their own Pandas code.
Temporal Columns:
Our last semantic data type is for temporal columns, where we also show a distribution overview so users can see the count of their records over time. In the larger distribution view, users can hover over this chart to see the count of values at a particular point in time. We also show the range of the column and if the column is sorted or not. Users can drag over a selection of the column to zoom into the time range more in the visualization. We plan on adding selection exports to temporal columns in the future. In
Figure 1
(right), we show the profiling information for a date column where a user can observe that the records in their dataset span 17 years, however are not evenly distributed with large spikes in certain years such as early 2012.
3.2

Live Data Profiles

Beyond showing useful data profiling information just once, AutoProfiler updates as the data in memory updates. Once a new cell is executed, AutoProfiler recomputes the data profiles for all Pandas dataframes in memory and updates the charts and statistics as necessary in the interface. With live updates, AutoProfiler always shows the current state of all dataframes currently in memory in the notebook, allowing users to quickly verify if transformations have expected or unexpected effects on their data. § 3.2 shows this update when a string column is parsed to numeric. Here, Pandas initially parses this column as an object data type but when the user turns the column into an integer the distribution and summary information is updated. Live updates help users verify a wide range of transforms. For example, after updating the types of columns, applying filters, or dropping "bad" values. AutoProfiler has several UI elements to help users track and assess changes after updates. The first is that when a user hovers over a column in any dataframe, if other dataframes have columns with the exact same name they are highlighted. For example, if a user takes the dataframe df}, filters it to \mintinlinePythondf_filtered, and then hovers on the Price column the linked highlights help the user make a visual connection between the two Price columns. With automatic dataframe detection and visualization, there can potentially be many dataframes in memory as users manipulate their data over an analysis. AutoProfiler supports sorting dataframe profiles to find those of interest. By default, the most recently updated profiles are shown at the top of the sidebar. A user can also sort alphabetically by the dataframe name. Furthermore, users can pin any profile so that it always appears at the top of the sort order. Dataframe profiles are typically only shown for dataframes explicitly assigned to a variable with one exception: if the output from the most recently executed cell is a Pandas dataframe we will compute a profile for it with the name "Output from cell [5]". On the next cell execution, these temporary profiles are removed. This fits into a common notebook programming workflow where users display their dataframe after making a transformation to see how the data has changed.